Globally, some 1.7 billion people are unbanked, with the World Bank estimating the largest number – about 225 million – are in China, followed by India with about 190 million. Other countries with a greater percentage of unbanked citizens include Indonesia, Pakistan, Nigeria, Mexico and Bangladesh.
Even in the U.S., there are 55 million adults that are unbanked or underbanked, suggesting that this isn't an issue just affecting less prosperous or isolated nations.
The problem is that few are looking after the interests of the unbanked, and others may take advantage of them. For example, by not having a credit history, they can fall victim to predatory loans; not having a bank account means that they can't get payroll direct deposit and instead are forced to use check cashing stores that charge exorbitant fees; and not having a credit card means that they are unable to easily make online purchases. The people that are most often unbanked – and most taken advantage of—are low-income citizens. This means the lack of banking services can further imperil their financial well-being, limit their ability to improve their economic situation and just make day-to-day living more difficult.
While that's bad for the consumer, of course, it does present opportunities for financial institutions. Companies can fill this void with banking products and services that can offer significant new revenue opportunities, while at the same time provide a critical social service that can improve the lives of millions.
Serving the unbanked
In order to best determine how to help the unbanked, it's important to understand that not all the unbanked are without means.  Many people choose to be unbanked because they don't trust traditional financial institutions, reports Take Charge America, a national nonprofit credit counseling and debt management agency. In addition, these consumers may erroneously believe that if they don't have a bank, then creditors and collections agencies can't pursue repayments from them.
But the more important reality is that for the great majority of the unbanked, life is much more difficult. It's harder to cash checks or pay bills. To send money to someone else, the unbanked must use money orders that charge high fees and can be time consuming to complete. Further, without a bank, they must rely on carrying cash instead of a more secure debit or credit card, which can be replaced if stolen or lost. If their cash is stolen or lost, it's gone for good.
Cash is also out of the question when it comes to conducting most online transactions. Without a debit or credit card, consumers aren't able to use online sites that can often offer more competitive prices or services.
In reaction to this, the World Bank has noted that as "companies and employers shift to digitized payments, such as direct deposit and automated clearing house transfers (ACH), employees who got paid money need to find a way to receive their payments." As a result, around 9 percent of the global population opened a bank account.
The business case for serving the unbanked
While helping the unbanked become bank customers offers clear advantages to these consumers, there are also significant business advantages for organizations to serve the unbanked while providing a great social service:
The total addressable market is very large.  According to Accenture, banks could add $380 billion a year in revenue if they reached out to the unbanked or underbanked in emerging markets.
The unbanked will eventually become the banked. When banking services are offered to lower-income citizens, it allows these individuals to begin saving money and help them move into the ranks of the middle class. By lending a helping hand to the unbanked early in the relationship, the odds are that the banks can retain them as loyal and long-term customers.
There are a number of initiatives a bank can pursue to serve the unbanked
Using technology
Serving the unbanked requires technology that can deliver services through apps or online at high volumes as adding physical branches isn't cost effective, and even less so in remote or rural areas. The sheer size of the unbanked requires being able to service huge numbers of customers cost effectively across large data sets quickly. In addition, educating consumers about what banking services they need will require automated recommendation engines, again underscoring the need for a fast data layer.
Aerospike is ideal for this use case because:
Aerospike is able to handle enormous amounts of customer data (TBytes, PBytes) with real-time responsiveness (20 ms or better) to provide an exceptional customer experience.
Aerospike can work with distributed clusters across large geographic regions, keeping "edge" data near the customer for faster processing and responsiveness.
Aerospike can reduce fraud by authenticating digital identity in real-time for account logins, powering real-time fraud systems and minimizing false positives and false negatives.
Aerospike provides an exceptionally fast data layer that can power AI-based recommendation engines to educate and prompt customers on new services. It's also flexible so that it can provide more functionality and throughput as the data system evolves.
For real-time messaging and chat with customers, Aerospike provides predictable, high performance and low latency with five 9s of uptime.
With its Flash Optimized Hybrid Memory Data Platform that is custom built for high scale, Aerospike provides significantly higher total cost of ownership (TCO) benefits compared to any other platform. This helps in keeping costs extremely low in mass market offerings that can benefit this sector.
As more people around the world need access to digital and mobile banking solutions, there are significant opportunities for the financial services industry to serve the unbanked and underbanked to develop significant new revenue opportunities, while providing a valuable social service for an emerging middle class.  This is a fantastic intersection of business opportunity meeting social responsibility.
Learn more about Aerospike for Digital Payments: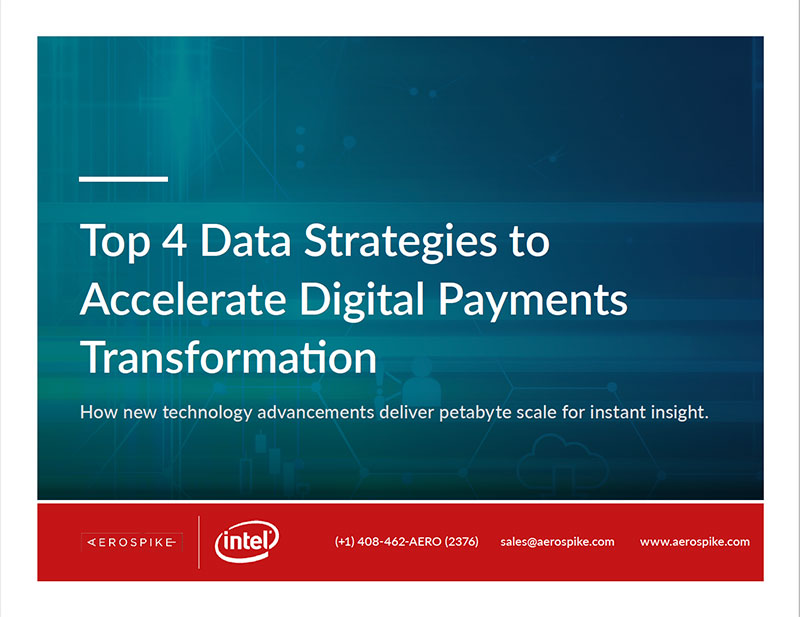 Top 4 Data Strategies to Accelerate
Digital Payments Transformation