We all know that successful companies are always in motion. They are searching for innovations that can give them an edge in their market; however, in 2020, COVID-19 had a tremendous impact on how companies see and adopt new technologies. To better understand these current trends Aerospike and Unisphere Research, the research arm of Database Trends and Applications, teamed up to produce and analyze a survey published by DBTA.
In the following analysis and infographic, you can see what several IT leaders in various verticals in North America prioritize with their budget.
Survey insights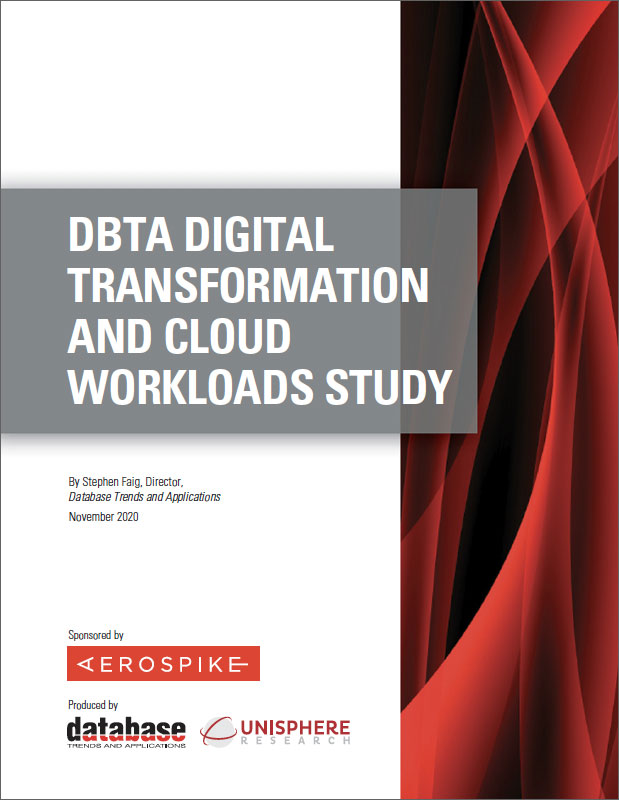 The survey's success lies in the segmentation of respondents at their seniority level; you'll find IT professionals with vast experience, with 44% of them with more than 20 years of working experience. You'll also find diversity in the verticals, representing companies from Technology to Financial Services and Healthcare.
In some cases, this type of analysis focuses only on large corporations or small startups. Still, in the case of DBTA, in this survey, you will find the right mix of larger corporations, with more than 5,000 employees and an excellent crop of smaller companies with less than 500.
One of the best questions answered in the study was the one related to budget, not only because it reflects how much the companies value the digital transformation, but also about the preparedness and vision for 2021. It gives you an insight on how to segment the companies but also how realistic are their plans. And the big elephant in the room, how COVID-19 affects this budget. Can you answer that question?
The respondents offer a view of how the industry responds to the shifting challenges for the new year:
What was the major impact on the IT budget for your company in 2020?
How are you preparing for the future?
Are your peers thinking in the same way?
The second set of questions is related to the digital transformation itself, highlighting some common projects that companies are likely to undertake. You can see a theme developing no matter the size of the company. It is important to note that a significant concern in the industry is that data is coming at you fast, and it is coming from many different sources and in many different shapes. As you'll see in the report, this fact can put a major strain on IT infrastructure.
Moving to the Cloud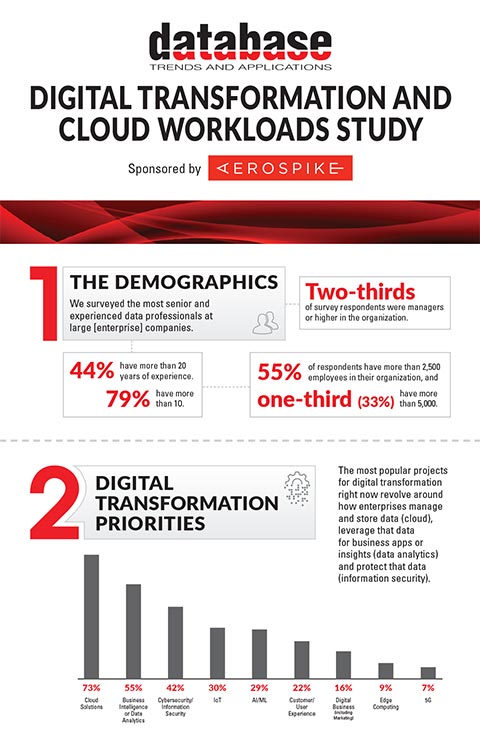 There is a lot of chatter about companies moving to the public cloud while others invest in private clouds. What are your thoughts? The study reveals that companies of all sizes currently use the cloud as a strategic platform with most of the investment into public cloud infrastructure, but the private cloud investment is not far behind; Does your budget reflect the current trend? If so, how far does your vision go?
We asked those professionals for their investment in the next few years, and let's say that numbers vary depending on the size of the company, so there is no clear indication of which cloud is more critical. Still, it is interesting to compare your strategy and put it in context with our results. And even more interesting is to understand the percentage of workloads to be managed in those clouds.
But the question gets bigger and bigger because there is not just one Public cloud, right? You have a plethora of options. And making things more complicated, you might be constrained by locality and regulations; still, the report presents a fascinating view of the percentage of workloads companies are deploying in the leading cloud platforms today. It also offers a great insight into how many projects those same companies plan to deploy by 2025.
If you think that it is only cost that is driving cloud adoption, either public or private, you'll be surprised to find out that there are several other factors most companies factor in. Yes, COVID-19 changed projects, budgets, and expectations. For the most part, it forced companies to rethink their approach to the cloud and data streaming, bringing more innovation to the market than in previous years.
Getting answers
Now we can revisit some questions:
How are you preparing for the future?
Are your priorities in line with the rest of the industry?
Are your peers thinking in the same way you are?
How far are you going to take your cloud deployments?
Do you have a preferred cloud provider, or are you building your own?
Use the following link to download the DBTA Digital Transformation and Cloud Workloads Survey and the related infographic. We are sure they will help you understand your company's digital transformation journey and show how other companies address similar challenges, and prepare them for the future.