Forrester Study on Hybrid Memory NoSQL Architecture for Mission-Critical, Real-Time Systems of Engagement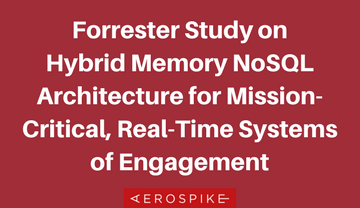 Featuring Guest Speaker Forrester Principal Analyst Noel Yuhanna
In today's digital economy, enterprises struggle to cost-effectively deploy customer-facing, edge-based applications with predictable performance, high uptime and reliability. A new, hybrid memory architecture (HMA) has emerged to address this challenge, providing real-time transactional analytics for applications that require speed, scale and low total cost of ownership (TCO).
Forrester recently surveyed IT decision makers to learn about the challenges they face in managing Systems of Engagement (SoE) with traditional database architectures and their adoption of an HMA. Join us as our guest speaker, Forrester Principal Analyst Noel Yuhanna, shares the survey results and implications for your business. You'll learn:
Why traditional architectures don't cut it anymore
The technological benefits of moving to an HMA, including performance, uptime and low TCO
The business benefits of moving to an HMA, including improving the customer experience, employee satisfaction and increasing revenue opportunities
Key use cases for an HMA enhancing financial services, payments, telecommunications and mobile advertising
To view this webinar please complete the form to the right.